CONTENT

News

Anna Netrebko

Maria Callas

Elisabeth Schwarzkopf

Birgit Nilsson

Natalie Dessay

Magdalena Kozena

Cecilia Bartoli

Joan Sutherland

Beverly Sills

Anne Sofie von Otter

Renée Fleming

Frederica von Stade

Vesselina Kasarova






All items books are delivered worldwide by Amazon USA.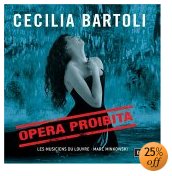 Cecilia Bartoli - Opera Proibita (September 2005)

Cecilia Bartoli's new CD features a collection of music that could not be heard in her native Rome at the start of the 18th century due to Papal censorship. Theaters, the Church felt, were places of evil and corruption and operas led people to immorality. But some music-loving senior members of the priesthood asked composers to write oratorios and cantatas--indeed, operas without staging, essentially--for their own private entertainment. Call it what you will, the music is sensational--by turns virtuosic, gentle, and playful--and always expressive: just right, it seems, for Cecilia Bartoli's temperament. The opening aria on the CD, a call for peace in the name of Jesus, is, in fact, a dazzling martial air with trumpets blaring and the voice going through an amazing array of coloratura fireworks. It shows Bartoli at her most aggressive. The listener is practically hurled back from the speakers when she begins, with rapid-fire runs and trills and cascades of notes, all perfectly in place. Showy arias are offset by several tender ones ("Lascia la spina" from Handel's Il trionfo del Tempo e del Disinganno returns in the composer's Rinaldo, four years later, as the now-famous "Lascia ch'io pianga"), and Bartoli exhibits again, her many, many levels of pianissimo and sensitive phrasing. Marc Minkowski and his Musiciens are just right for this repertoire and back Bartoli up superbly. This is a fascinating project, rivetingly performed and presented.


---

Links:
Bartoli on Decca