CONTENT

News

Anna Netrebko

Maria Callas

Elisabeth Schwarzkopf

Birgit Nilsson

Natalie Dessay

Magdalena Kozena

Cecilia Bartoli

Joan Sutherland

Beverly Sills

Anne Sofie von Otter

Renée Fleming

Frederica von Stade

Vesselina Kasarova






All items books are delivered worldwide by Amazon USA.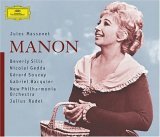 Beverly Sills - Massenet: Manon

This recording has been unavailable for too long. Recorded in 1970, a solid year-or-so before Beverly Sills' voice began to show the damage caused by singing Elisabetta I in Donizetti's Roberto Devereux, this is the finest all-around recording of Manon on the market. Sills, in addition to being fresh-voiced, is so thoroughly in the part that we can chart Manon's downfall step by step; her girlish singing is as right on as her sassy, showy coloratura in the thirds act, and her St Sulpice scene is truly seductive. She's the perfect Manon. And Nicolai Gedda's Des Grieux, sung, as is Sills' Manon and the rest of the cast, in impeccable French, is passionate, madly in love, and ultimately tragic. Gabriel Bacquier's Count is imperious and authoritative and Gerard Souzay's Lescaut is smooth. Julius Rudel's leadership sparkles when it should and his sense of French suavity is unfailing. The score is given more than complete - as an appendix, there's an aria for Manon that Massenet added later. This is a desert island disc.


---

Links:
Beverly Sills Online